There are several professions that allow you to make a regular income. Apart from the most common professions, you will also see the sale of nudes, an excellent solution that allows many people to earn a living. To enable them to maximize their profits, several platforms have emerged.
Among these is Fancentro, a sexy social network that is very popular for making money. However, before you start using this site, you should be better informed about it. Find out everything you need to know about this tool to become a recognized influencer!
| | |
| --- | --- |
| 👋 Register | Fancentro |
| 💰 Commission | 20% |
| 🌍 Languages | English, German, Spanish, Russian, Italian |
| 📙 Benefits | Excellent support (24/7,) weekly payment, migration, |
| ⌛ Payment | Weekly payment every Tuesday, 100$ mini |
| ⭐ Note | 5/5 |

What is Fancentro?
Before you begin your journey as an influencer on FancentroIf you are not sure what the problem is, first find out what the problem is in practice.
| | | | |
| --- | --- | --- | --- |
| Usefulness of Fancentro | Date of creation of Fancentro | Features | Payments |
| Make money by selling sexy content | Feb. 8, 2017 | Selling photos, videos, live, tip, story, paid message | Secure payments by credit card or bank transfer |
Presentation of Fancentro
Fancentro represents a sexy social network that was born on Feb. 8, 2017. In concrete terms, it is an uncensored influencer platform that offers you the possibility to sell content. Whether it's videos or sexy photos, it allows you to monetize them without worry.
To do this, the site allows you to create your subscription. This can be a one month or permanent subscription. Of course, before taking advantage of this privilege, you must first create a Fancentro page in order to count you among its members. From then on, you will have access to several tools and features to develop your business.
How to create a Studio account on Fancentro?
To create a Studio account on Fancentro, you need to follow some essential steps. To begin, go to studio.fancentro.com. Once on this page, scroll down to the studio registration and enter the necessary information:
studio name
contact name
email address.
Next, check the box to certify that you are over 18 years of age and click on "Create account". You will then see a page asking you to provide other necessary information. Finally, click "Let me in" to complete the registration process.
Therefore, you can add a new influencer account to start your business.
Differences between Fancentro and Onlyfans
Just like Fancentro, Onlyfans is also a very well known social network in its field. It must be said that it has many points in common with Fancentro. Nevertheless, there are some differences between the two that you should know.
Thus, the first difference to note concerns the section discover. It is difficult to get known on OnlyfansFancentro has understood this and has created a discover section. Fans can then discover new profiles and subscribe to your page.
The other discrepancy that exists between the two sites is in the commission. In reality, a Fancentro influencer receives 80% of its earnings20% is allocated to site maintenance and payment processing costs.
For example, the Onlyfans platform pays 80 % to its creators. Moreover, the influencers of this platform can withdraw their money manually or daily. They also have the possibility to withdraw every 1st of the month or every Monday of the week.
You can consult other alternatives to Onlyfans.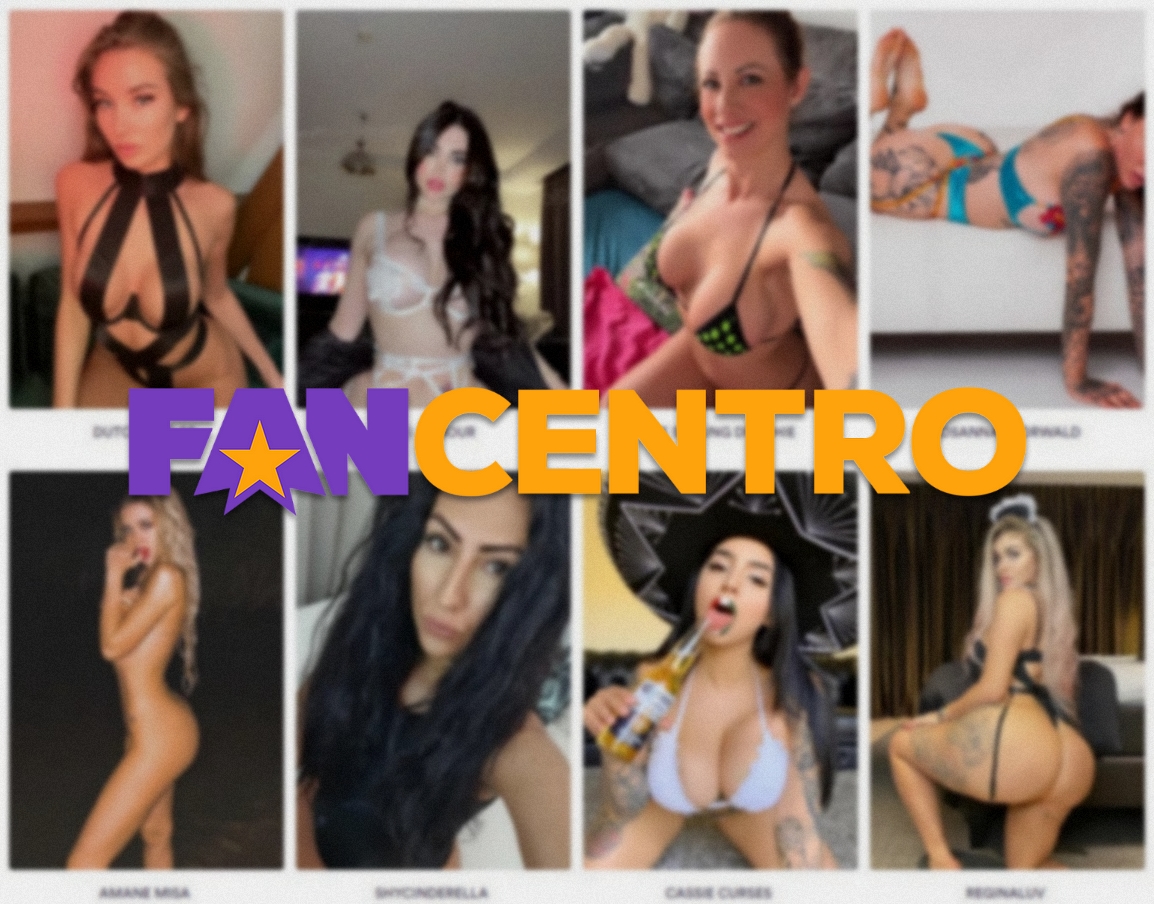 Ways to earn money with Fancentro
One of the advantages of this sexy social networkis that it offers you several tools to earn enough money.
The classic subscription
One of the solutions available to you to earn money with Fancentro is the classic subscription. Concretely, this possibility allows you to propose only a subscription to monetize your content. Therefore, you are free to set your own prices and create the different types of subscriptions that suit you.
One subscription package idea you can follow is to offer a package where you activate only the Feed and the storys. Then, you can adopt a second formula with the Feed and the direct messages, but without the storys. Finally, you can opt for a last package that gives access to all the features.
However, in order to earn enough money on Fancentro, it is generally advisable to opt for a single subscription that gives access to all features. This avoids cases of frustration with your fans who still don't understand that you offer several subscriptions.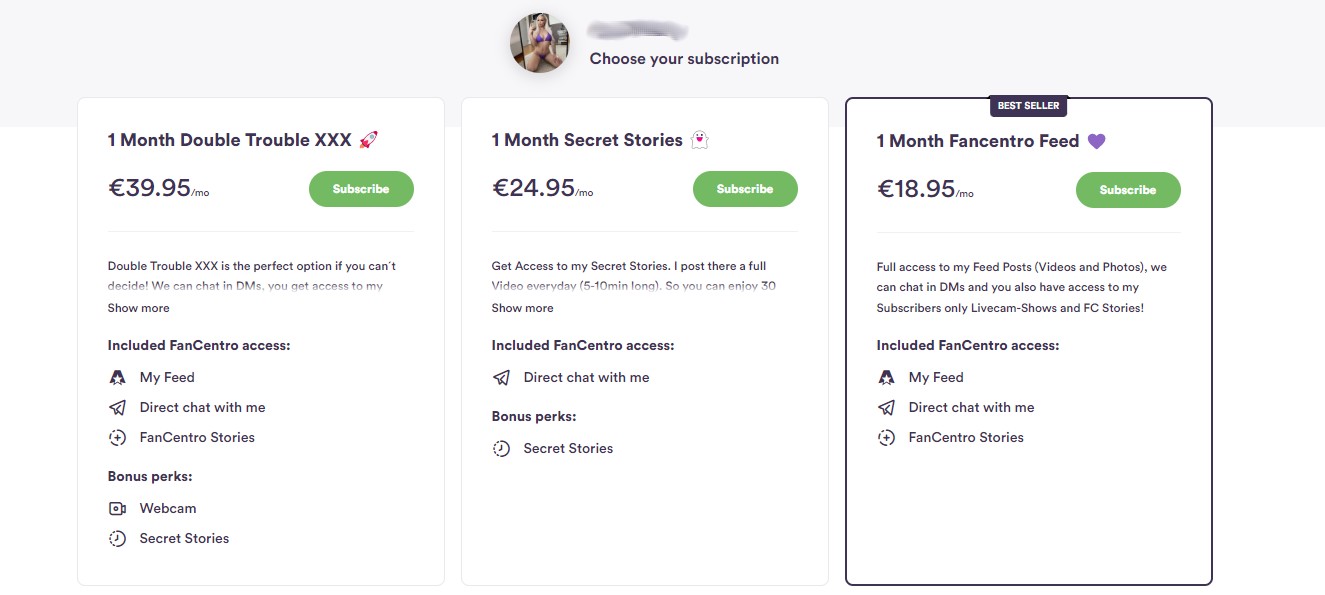 The PayPerViews
PayPerViews are also an excellent approach you can follow to earn money on Fancentro. This solution will certainly benefit you, especially if you are just starting out on the platform.
This method consists of open a free account on Fancentro. Therefore, your fans can subscribe to this account without paying a single cent. Then, you share very naughty photos and videos to show them what you are capable of. Afterwards, you will ask to pay the PPV if they want to discover more content even hotter.
If your fans liked you before, they will not hesitate to subscribe to discover other contents. By opting for this technique, you can quickly build a reputation and become a recognized influencer on Fancentro.
Take advantage of private messages
Private messages can also allow you to generate enough income on Fancentro. Thanks to this feature, your fans can contact you to request private services. In this case, you are free to negotiate the price with the latter.
However, before setting your rate, consider all the desires and imaginations of your client. Anyway, this solution will allow you to make enough money on this sexy social network.
Clips
FanCentro has a section dedicated to video sales. You can sell your clip for a one-off payment ranging from €1 to several thousand euros. Fans can purchase the clip on your fancentro page or on the clip library.

Tip
You can easily receive tips from your fans, without any compensation. There's no limit on donations and the commission is 80%, just like the rest of the platform. Perfect for some extra income.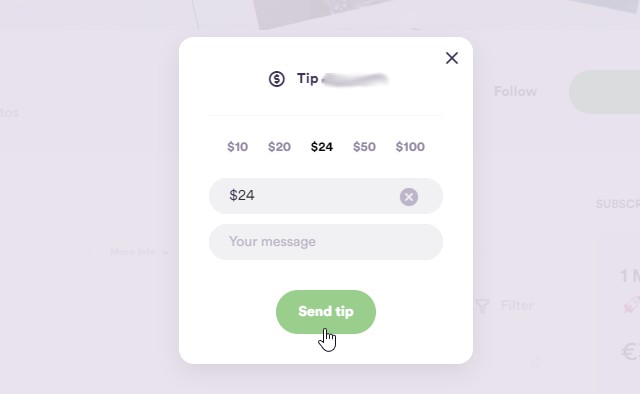 Centro University
This is not a way to earn money with Fancentro but a guide to help you earn more. You have at your disposal Centro Universitya very powerful educational platform that offers you more tips on how to make money. You won't lose anything by following its trainings, because they are 100 % free and suitable especially for beginners.

The lives
Always to allow you to make enough income, Fancentro also offers you live streaming. This is a feature that allows you to do a live broadcast with your fans. In fact, many customers prefer live broadcasts in order to experience the action directly.
Therefore, this feature of Fancentro offers you several possibilities to satisfy your fans. Ideally, you start a public online broadcast. Then, at some point in the broadcast, you switch the live stream to private. To see all the action, they will have to subscribe first.
In addition, you have a tip menu in which you can indicate the price of each activity you can do in front of the camera.

Why choose Fancentro?
There are several reasons why it is recommended to choose Fancentro to start your influencer career.
Optimal data security
When you register on Fancentro, you ensure the security of your information. In fact, the platform does everything possible to fight against leaks. For this, it has put in place several security measures. The leaks pages will be removed from google searches thanks to the platform's lawyers.
Access to unique features
Unlike most sexy social networks like Onlyfans, Fancentro offers you quality features. You can make a live with your fans but also publish paid clips. The platform is very close to a cam site, contrary to Onlyfans which wants to be "all public".
Optimize its visibility and notoriety
Fancentro represents a very recognized platform in its field. Therefore, when you create a page, you are sure to optimize your visibility and your notoriety. Moreover, the customers you will have on Fancentro are quality prospects. In other words, they are ready to pay large sums of money for pretty girls. So, don't hesitate to develop your business as it should be in order to improve your income. The "discover" part is an excellent asset.
FAQ
Here are some of the questions that come up most often when talking about the Fancentro social network.
❓ How to make money on Fancentro?
To earn money on Fancentro, you have to create an account and share content (videos and photos). Each subscription of your fans gives you the right to a profit.
❓ What is the commission for Fancentro?
On Fancentro, you are entitled to 80 % of your profits when paying.
❓ What is Fancentro's share?
Fancentro takes only 20 % on the totality of your profits. These fees will allow him to ensure the maintenance of the site to offer you an optimal protection. During your payments, it is also his fees that cover the transaction rates.
❓ How is Fancentro different from other social networks?
With Fancentro, you can publish any kind of content, without any censorship. Perfect to make your fans pay for some sexy pictures.
❓ Is it possible to receive a tip on Fancentro?
Yes, you have the ability to receive tips from your fans. Normally, this page is enabled by default, but you can always go into the settings to do so if it wasn't working.
Conclusion
Considering all these explanations, it seems obvious that Fancentro represents one of the best sites reserved for influencers. First of all, the registration on the platform is done in a few clicks.
It offers to its members a very interesting commission rate considering the many features it offers. The platform is perfect to sell a subscription if you are in the adult business (pornstar, sexy, model...).