Like MYMSwame is a French subscription-based social network very similar to Fansly or OnlyFans. Swame allows you to offer quality content and make money with your photos, videos and messages.
Swame offers adult content and assumes it as soon as you register on the site. After validating your email and choosing your nickname, Swame will ask you what you are looking for.
Your news feed will be filled with adult content creators if you choose the latter option.
Moreover, it is possible to specify your preferences, if you want to see straight, gay, fetish content, etc. You are free to choose the option that suits you best.
Want to get started on Swame and want to learn more about this subscription-based social network? In this article, we will review all the features of Swame, its advantages and disadvantages and the options available to make money.
| | |
| --- | --- |
| 👋 Register | Swame |
| 💰 Commission | 20 % |
| 🌍 Languages | French, German, Spanish, Italian, Portuguese |
| 📙 Benefits | Security, Subscription level, Low commissions, Location blocker |
| ⌛ Payment | Payment when you want from 20 € onwards |
| ⭐ Note | 3/5 |

What is Swame?
Swame is a social network like OnlyFans or Fanvue to name a few. Influencers who have a creator account (Swamer) can block their content behind a Paywall.
Users who want to access the publications will be forced to pay a subscription, the price of which is set by Swamer. Most of the content that people are looking for on this kind of platform are erotic photos or pornographic videos.
According to a Blick publication, 96 % of content creators on OnlyFans are female and 97 % of consumers are male.
Swame being a platform similar to OnlyFans, you will also find a lot of women offering erotic content.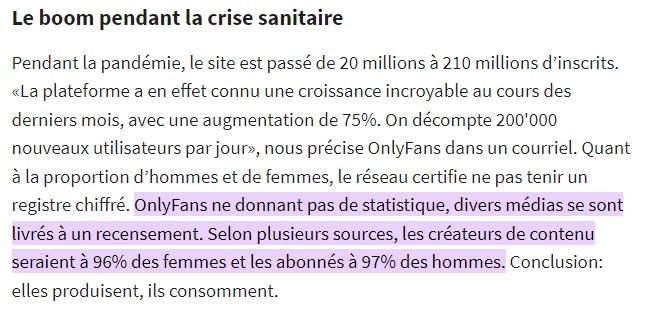 Ways to make money with Swame
Platforms like Swame or OnlyFans offer creators different ways to make money. The most common one is to sell your content via a monthly subscription.
Users who wish to access your photos are obliged to pay a subscription to your page, the price of which you set. To start making money on Swame, you must first upgrade your user account to a "Swamer" account.
To do this, there are several steps. First of all, you need to register on the site. Then, go to your profile by clicking on the user icon on the top right.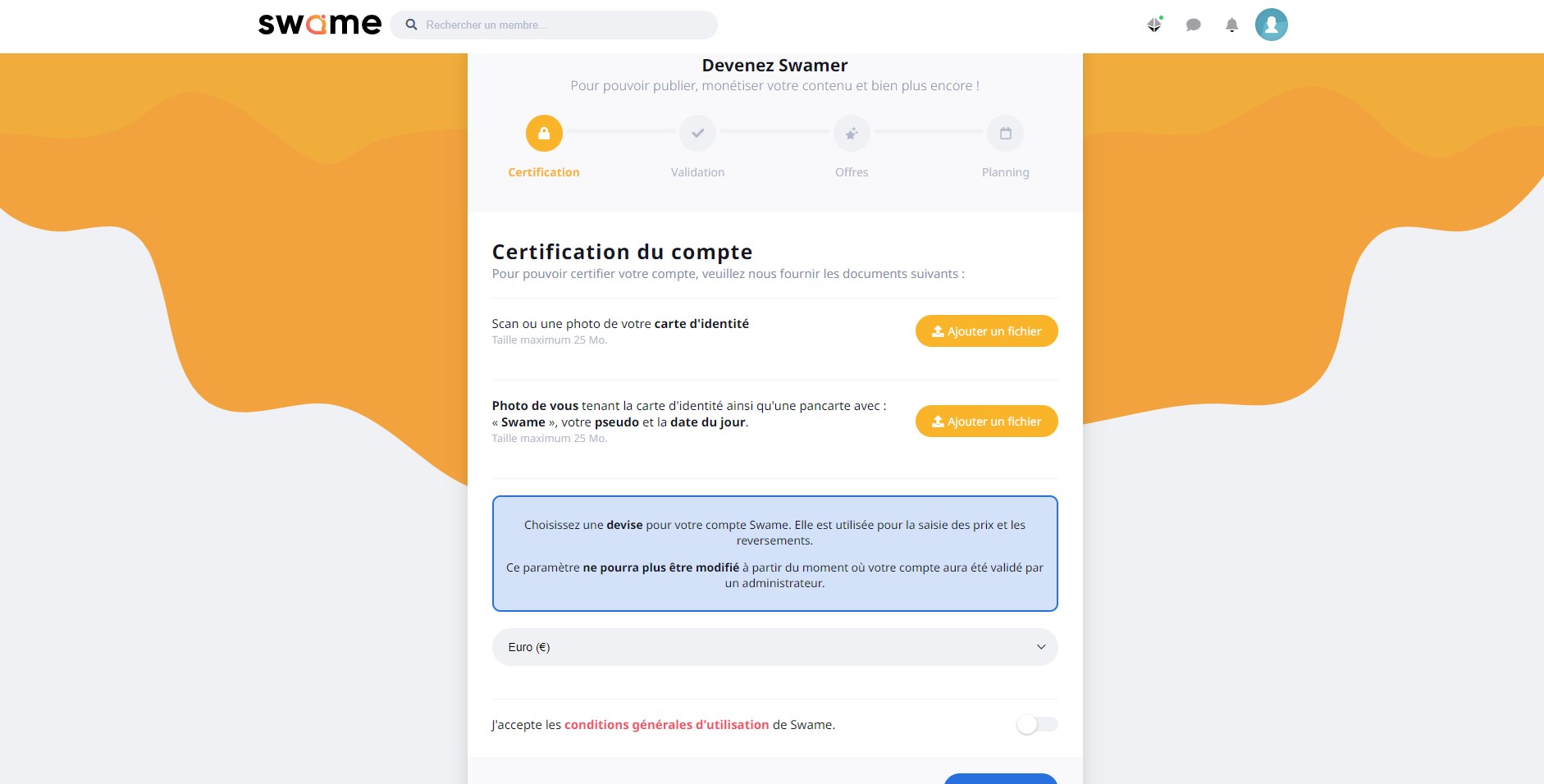 To become a Swamer, the platform will ask you to provide a copy of your identity card and a picture of you holding a sheet or a sign with Swame, your nickname and the date of the day written on it.
This allows Swame to avoid fake profiles or identity theft and to prove that you are of age. No one wants to find out that someone is making money off of you by posting personal photos on Swame or any other platform.
If you create a pro account on Swame, it is voluntarily. Once your account is validated, you can start generating money on Swame!
The income of a Swameuse
As on OnlyFansYou get 80 % of the revenue you generate on the platform. For example, the sale of a 10 € subscription will bring you 8 €.
The platform assures that many Swameuses manage to get a salary of about 20 000 € per month!
Paid subscriptions
Paid subscription is the main feature of sites like Swame or OnlyFansand what differentiates it from other social networks. On Swame, you can set the price of your monthly or weekly subscription between 2 € and 150 €.
Although it may seem attractive to you to put the price of your subscription at 100 €, this will not be the case for your potential customers.
Vary the price according to the audience you are targeting and the content you are offering, don't hesitate to look at what your competitors are doing.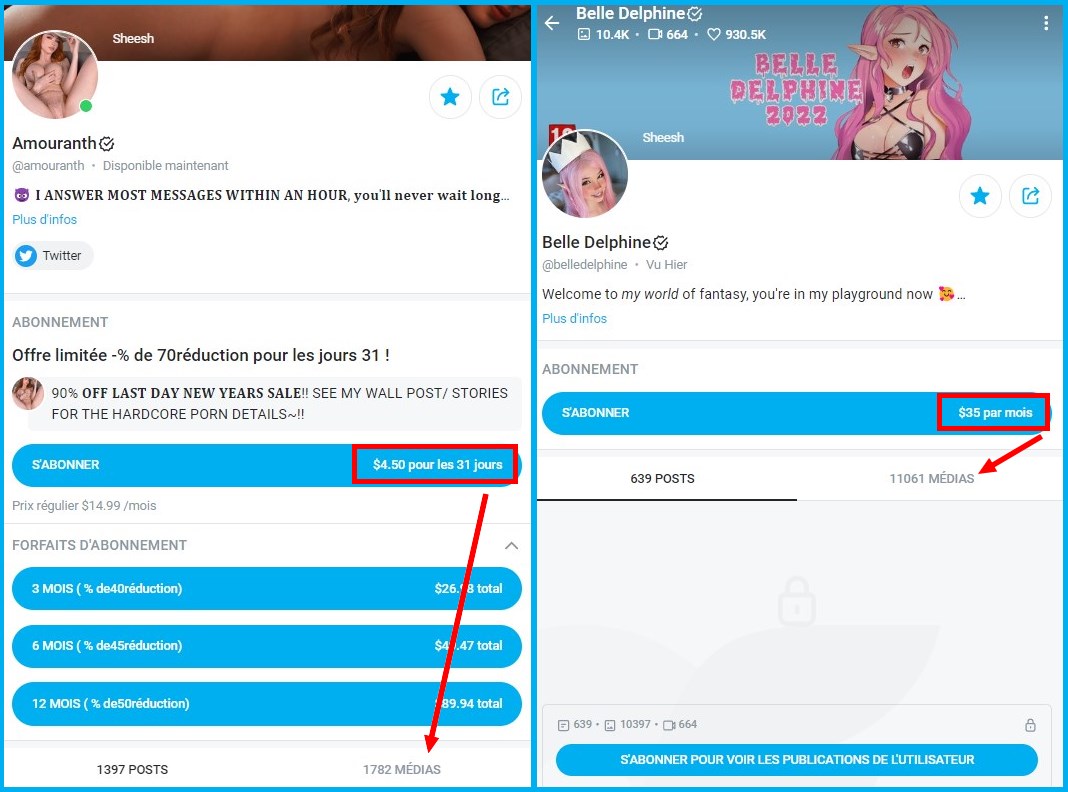 As you can see on the image above, Amouranth offers a subscription rate much lower than Belle Delphine, but in return, the latter offers 10x more photos than Amouranth.
Do not hesitate to compare your profile with other Swameuses and adapt your rates according to. In addition to the price, it is possible to change the duration of the subscription with great flexibility on Swame and to launch promotions on your account to attract more users.
To monetize your account, Swame offers other tools than subscription. You can offer your subscribers additional services, such as the possibility to request personalized content or book a private showcam.
These options allow you to interact with your biggest fans and build loyalty.
Showcam and private content
These services are totally optional, you are not obliged to offer them on your account, however, it's a big plus and one of the best tools to make you stand out from the other Swammers.

It is possible to customize private show and content requests so that only your subscribers can access them.
For private content requests, you can offer a list of services that you compose yourself. Or you can give your fans the choice to request custom content. Don't hesitate to decline requests that seem unreasonable.
Tips
This is an option that is available in many sites like MYM or Swame. Tips are a way for your biggest fans to give you money for nothing.
The most shy users who will not dare to use the services with which they have to interact directly with you will appreciate this alternative to send you their devotions.
Why choose Swame?
Swame is a social network that has many advantages that its competitors like OnlyFans or MYM do not have. Already, the fact that they directly assume and put forward the adult content is a big plus.
Based on your performance, Swame will feature you in his top 5 Swamers of the week.
An easy way to attract even more attention to your profile and convert even more fans.
Otherwise you can consult our guide to get more subscribers on your Swame.
Swame's weaknesses
Swame is a very new platform, you won't see many Swamers and Swameuses. This can be an advantage to grow as the competition is less tough, but it doesn't attract too many users.
Indeed, Swame's traffic is not as good as OnlyFans', the latter enjoys great popularity as it is one of the pioneers of premium social networks.
However, it costs you nothing to create an account on Swame. The platform was created in France and reaches mainly the French and European public.
It is worth creating a Swame account if you want to reach European users more easily. It's a great alternative to MYM, as Swame is more focused on porn.
❓ FAQ ❓
Here are some questions and answers to learn more about Swame.
❓ C's what Swame?
Swame is a private social network like Onlyfans or Fansly. You have to pay a subscription to have access to the content of the creators present on the site.
❓ How much for subscriptions?
Creators are free to set the price of their subscription and can even create promotions.
❓ Can we be on Swame and also on Onlyfans?
To reach a wider audience and ensure better financial security, it is quite possible to work on Swame and on Onlyfans, MYM... it is even recommended.
Swame Avis in video
To come
Conclusion
Swame is a recent platform that has learned from the successes and mistakes of the private social networks that preceded it. The traffic of Swame is not excellent, but it is a defect that only time will be able to solve. We find all the possible features to monetize its content: subscription, paid message, tip, live, personalized content.
As a content creator, if you want to expand your business and reach the European audience, Swame is a great option.