If you ask me, what is the biggest problem with Onlyfans? It's getting discovered. Getting known as a creator is very complicated, that's why we made this article about the best tips to promote your Onlyfans.
It is difficult to reach your target audience because Onlyfans expects you to find the fans yourself and introduce them to your profile. If you are in a situation where you need to find a way to grow your Onlyfans page and get more fans or subscribers, this is the guide you are looking for.
In the first instance it will be necessary to register on Onlyfansif you haven't already done so.
If you ask me to rank the different social networks to promote your Onlyfans, here is the list:
Reddit
Twitter
Instagram
TikTok
YouTube
By using the Fanvue Discovery option
Other platforms
Don't forget to create exciting and quality content so that your users or fans already subscribed don't leave your page.
1. Promote your Onlyfans page via Reddit
Reddit is ranked №1, in my opinion, for an adult Onlyfans creator. You can find the right audience for your page if you harness the power of subreddits. NSFW subreddits are a great way to gain subscribers. This is where you can find your target audience. Unfortunately, Reddit is a bit of an outlier for some creators because they don't understand how this network works.
Reddit gathers thousands of links and contents and millions of visitors. Anyone can post a content, as long as it matches the right section (subreddit) and is validated by the moderators. So who says a lot of traffic, says potentially a lot of new fans.
On Reddit, you have to be credible to post; there are two ways to appear credible to the mods (the people who control a subreddit), the first is to get more karma and the second is to let your account age. Otherwise you can have your account verified by the mods.
How do I get verified? The verification process for subreddits is simple. You need to hold a banner with the subreddit name and your Reddit username, and boom! You are verified and can post on that subreddit without being banned or having your posts deleted.
Here are some NSFW subreddits you can post on:
You have a more complete list here on this subreddit.
Feel free to post gifs and pictures regularly and leave your onlyfans in description for the most curious.

2. Expand your Onlyfans page with Instagram
After Reddit, I think Instagram is the most useful social network to get more fans on your Onlyfans page. By using the right hashtags, you can reach more people.
Instagram is also very particular about adult or sexual content, so read their terms and conditions before submitting content. Be careful as a creator and be very careful not to show sexual content on your page. It is not uncommon to see models being banned from the platform, even with several million followers for a photo too naked.
Instagram has over a billion users. You just need to create content regularly, of good quality and put hashtags. You will also need to be active, post stories, respond to comments. Don't give away too much content on instagram to entice them to sign up to your Onlyfans.
You can follow the instagram account of Onlyfans to discover the models of the platform. Feel free to copy the strategies of other users.
3. Use the power of Twitter to get more fans on your Onlyfans page
Twitter is again the top 3 platforms I would use to promote my Onlyfans page. Twitter is a powerful platform, and I would recommend it to anyone who is starting out on Onlyfans as a beginner. You can reach over a million people a month if you regularly post your photos or videos daily. I know many creators who reach the top 5 % just because they have a lot of followers on Twitter.
Twitter gathers many big payers, people willing to spend a lot of money on your Onlyfans. It is therefore wise to invest in this platform. You can use hashtags for a better reach, but it's better to have a loyal audience or to post regularly.
But why not use hashtags? I wouldn't recommend using hashtags (or links) because when people search for something on Twitter, Twitter's algorithm analyzes all the words mentioned in your tweet and presents the most relevant and recent Tweets.
You can however be very active on the platform by replying to popular tweets. If you are present under all the tweets of the moment, intrigued people will visit your profile.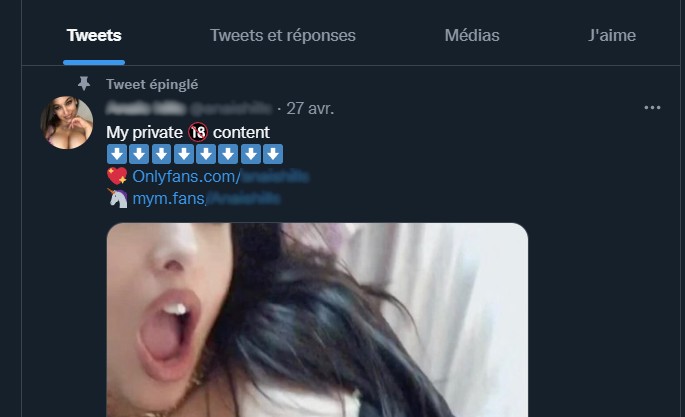 4. Use the discovery function of Fanvue
As I recommended in the guide to selling your photosBe present on several subscription sites. Fanvue is a platform that introduces new features every week and creates a safe space for adult content creators.
Fanvue recently introduced a new feature called "Fanvue Discover," which allows adult content creators to be discovered by their fans. You must upload some of your free content to Fanvue in order to be discovered and convert that audience into fans.
You can read our full review of Fanvue to learn more.
Each platform puts forward creators, under certain conditions. Feel free to read the rules and regulations to find out how to be featured.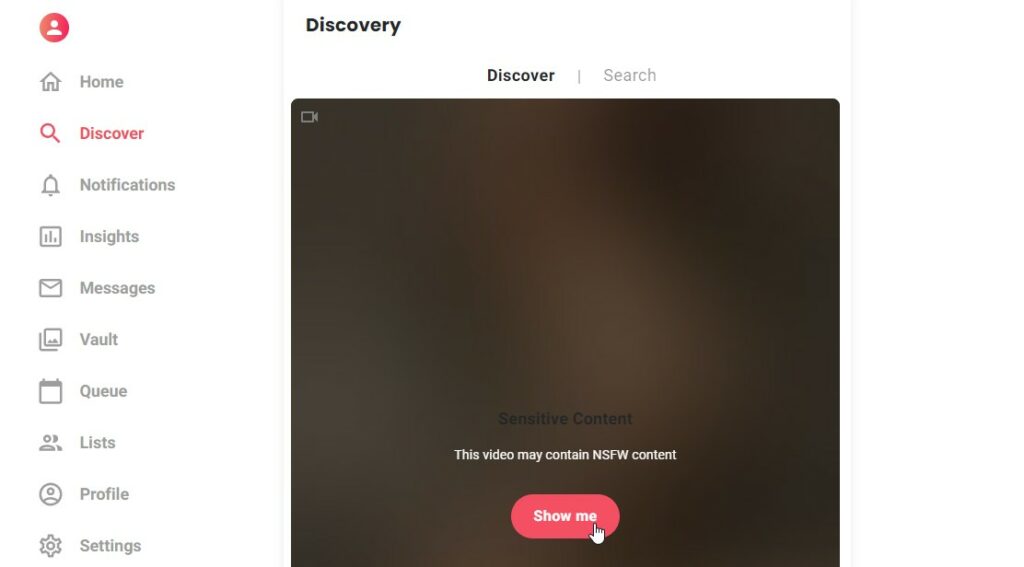 5. Use the power of Quora to gain subscribers
The use of Quora as a marketing tool is really underrated. It's a site where people ask questions. You can then answer as an expert on the topic. There are obviously questions around sex and adult content.
Quora is a giant with 300 million users, and adult content creators can get good audiences if they opt for a Quora space and republish the exact content they post on other platforms. Quora's algorithm will promote your content if you get good engagement.
6. Use your writing to develop your Onlyfans page
Medium is also a great way to publish content and be featured on the platform. For example, I've seen erotic writers on Medium launch their Onlyfan page, and they earn a considerable income from their readership.
Writing is powerful, and if you use the right platform like Medium, Substack, Quora, a personal blog, or a personal Instagram where you can write about things your audience might be interested in, you can increase your chances of being discovered.
In France, you can share your stories on xstory-en.com or voissa.com.
7. Use Pornhub to your advantage
I saw a couple who were making Pornhub videos and also had a lot of success on Onlyfans. They were a couple of swingers who invited other couples to make videos with them, they uploaded part of the video to Pornhub, and for the rest of the video, you had to subscribe to their Onlyfans page.
This is a great strategy used by many Pornhub creators to get more followers, and then keep them longer.
Pornhub generates more than 2.3 billion hits every month. It's up to you to get some of that traffic with videos. You can then put an intro at the beginning of your video to promote your Onlyfans.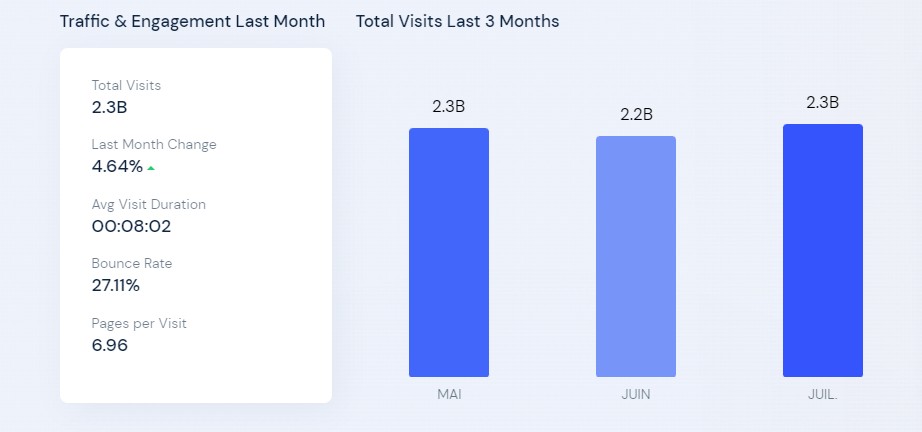 8. Use adult webcam sites to promote your page
The Internet is evolving fast, but it's nothing compared to the porn industry. There are hundreds of different ways to consume adult content and one of the most popular at the moment is cam sites.
You can film yourself live right now on adult cam sites and become a camgirl. Once your audience is acquired on a site like Livejasmin or Chaturbate, you just have to bring them back to your Onlyfans page to earn more money.

9. Collaborate with other Onlyfans creators
This is probably the most effective. You invite another Onlyfans creator, to make photos or videos. Then the photos are published on both accounts with a link to your collaborator.
When collaborating with Onlyfans creators, you must have a model release form that shows that the user consents to being recorded and shown in the video.
Collaboration is a great tool that online content creators have been using for years. It allows you to bring two communities together to make them grow. Don't hesitate to collaborate with other models, even if they are smaller than you.
You can make a collaboration request in the comments of this article.
10. Use YouTube as a marketing tool for your Onlyfans page
Videos are the future of the Internet. More and more people will love to enjoy videos and will have plenty of bandwidth to use the Internet freely without thinking about their data limits.
One of the creators I guided on the promotion uses YouTube as a sex educator. She was great and ran a great YouTube channel, and through that channel she was getting more YouTube fans. She was in the top % creators of Onlyfans and was earning over 6,000€ per month.
You can give sex tips, but if you are in another niche, that's even better. For example, if you are a cook who shares his recipes on Onlyfans, you can make videos on youtube.
11. Join the Onlyfans alternatives where you will be discovered easily
There are many alternatives to Onlyfans that you can join and find those that allow you to be discovered by their audience. Building an audience on a platform is the same as building a loyal base.
You have a list of alternatives to Onlyfans about this guide.
12. Use TikTok to get more followers on your Onlyfans page
TikTok is another great platform you can use to grow your audience on Onlyfans. You cannot upload sexually explicit content to TikTokBut if you upload adult content, you can quickly get more viewers and more fans on your Onlyfans page.
Nothing prevents you from making suggestive content. It's all about the virality of the content, if you start to explode on tik tok, you will quickly see your Onlyfans subscribers increase.
We have a guide for you on our blog on how to use TikTok to grow your Onlyfans page.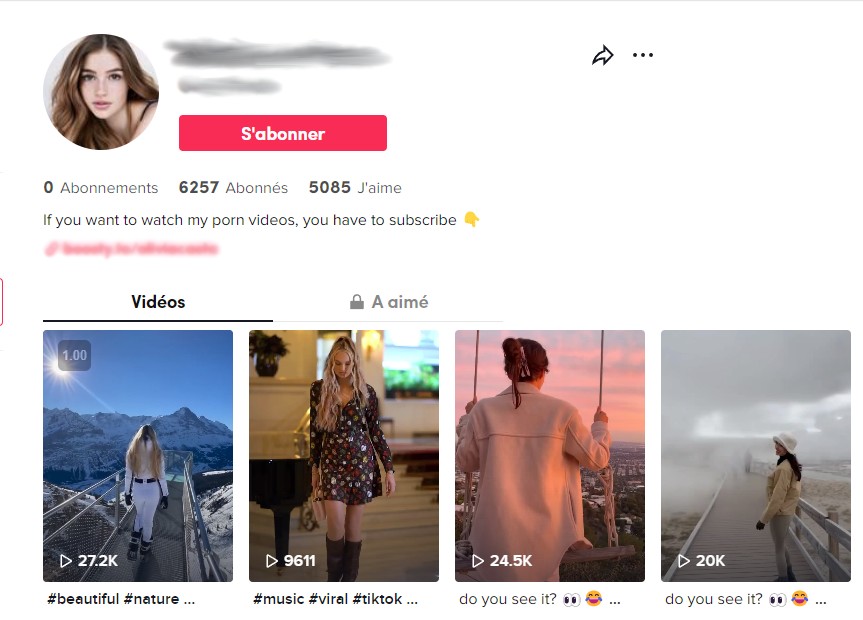 Win more subscribers on Onlyfans in video
Frequently Asked Questions
Can I promote the Onlyfans page for free?
Yes, you can promote your Onlyfans page for free. All the methods I've discussed in this article can be used for free to promote your Onlyfans page. The techniques shared here cost 0$ and can earn you several hundred or thousand dollars per month.
Can you promote your Onlyfans page anonymously?
Yes. Onlyfans allows you to use a nickname instead of your real name to create a page. You can maintain consistency by using the same username on all platforms.