AlthoughOnlyFans is considered as THE default platform when it comes to subscription networks due to its notoriety, many competitors are starting to appear.
And that's great news for content creators. More sites obviously mean more choices, and it's important to be able to choose the platform(s) that suit you best.
Fanvue is a premium social network that, like OnlyFans, offers paid services, allowing you to make money easily by publishing various forms of content.
| | |
| --- | --- |
| 👋 Register | Fanvue.com |
| 💰 Commission | 15 % |
| 🌍 Languages | English |
| 📙 Other | Excellent support, Short payment terms, Analysis tools, Low commission |
| ⌛ Payment | From one week, 20 $/€ minimum |
| ⭐ Note | 5/5 |

What is Fanvue?
Launched in 2020 in the UK, Fanvue is a relatively new platform. All types of content creators are welcome on Fanvue, but of course, as on OnlyFans and its competitors, it is mostly sexy and tendentious content that you will find on Fanvue.
However, whether you are a sports coach, cook, baker or other, the presence of sexy content should not prevent you from offering your services on Fanvue.
If you are a creator of "porn" or sensual content and are worried about a potential ban, you should know that Fanvue promises never to ban adult content. Unlike other more cautious platforms, you don't risk having your account deleted and losing all your subscribers overnight.
For those who are not familiar with the principle of subscription social networks such as OnlyFans and Fanvue, don't worry, we'll explain everything. As on all social networks, you can publish photos and videos on your page, the trick is that you can make your publications visible only to your followers.
Users who will want to enjoy your content will have to pay a monthly subscription fee that you set yourself. Subscription is not the only service that allows you to monetize your content on Fanvue.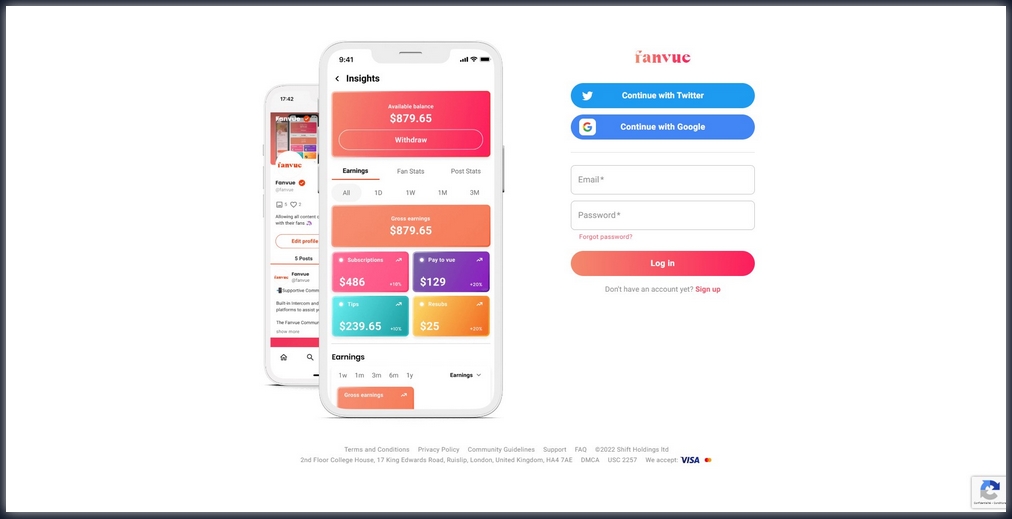 Ways to make money with Fanvue
Basically, Fanvue works the same way as a regular social network (Instagram, Facebook, Twitter), with the only difference that your followers will have to pay for features that are usually available to them for free.
The idea may seem strange, why would anyone pay for something they can have for free? Well, that's just the idea, offer them content they can't or won't find on "traditional" platformsamong others.
It is for this last reason that we find in great majority on the subscription networks, sexy content, even pornographic. This is a type of content that is generally banned on mainstream social networks such as Insta or Twitter.
If you want to go all out on Fanvue or other similar platforms, promoting your page on different networks is still very interesting. While you can't post too much trending content or you'll get banned, you can still play with the rules and post teaser images and videos.
You can easily add the link of your Fanvue page or other on your profile, curious people who come across your posts will take a look at your profile and probably go to your Fanvue page if they are interested.
Moreover, mainstream networks allow you to interact with other content creators by posting a comment under their publication for example, this will attract the attention of future subscribers. Whether it is OnlyFans, MYM, Fansly etc., subscription-based social networks allow you to make money in the same way and Fanvue is no exception. It is after you are registered as a creator that you can publish content on your Fanvue page.
Subscription
In order for them to see your content, Fanvue users will need to subscribe to your page, a subscription that is paid and priced by you. Fanvue at one of the lowest commission rates among subscription platforms, you keep the majority of the money you generate, i.e. 85 % of each of your sales.
You can set up promo codes or temporary promotions to increase the number of subscriptions.

Tip
For users who don't want to commit to paying a subscription, Fanvue offers another option, tips. Of course, it is possible for your fans to be subscribed to your page and offer tips at the same time.
In case one of your fans would like to offer you a tip, he can pay between 3 $ and 500 $/€. to show you his devotion.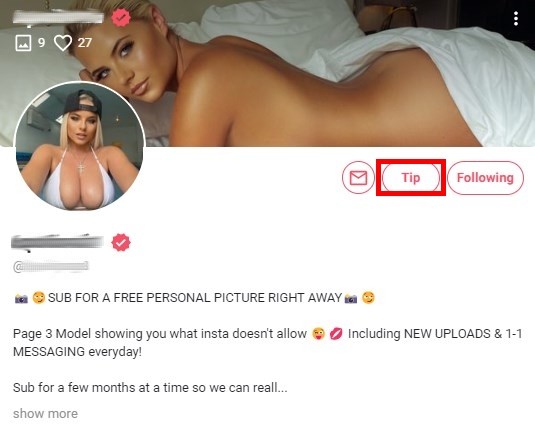 Private Messages
The private messaging is an important feature, it allows you to discuss directly with your subscribers. It allows you to develop and maintain a kind of parastatal relationship with your subscribers.
By interacting with your fans, you can build loyalty and sell them private photos and videos via messaging.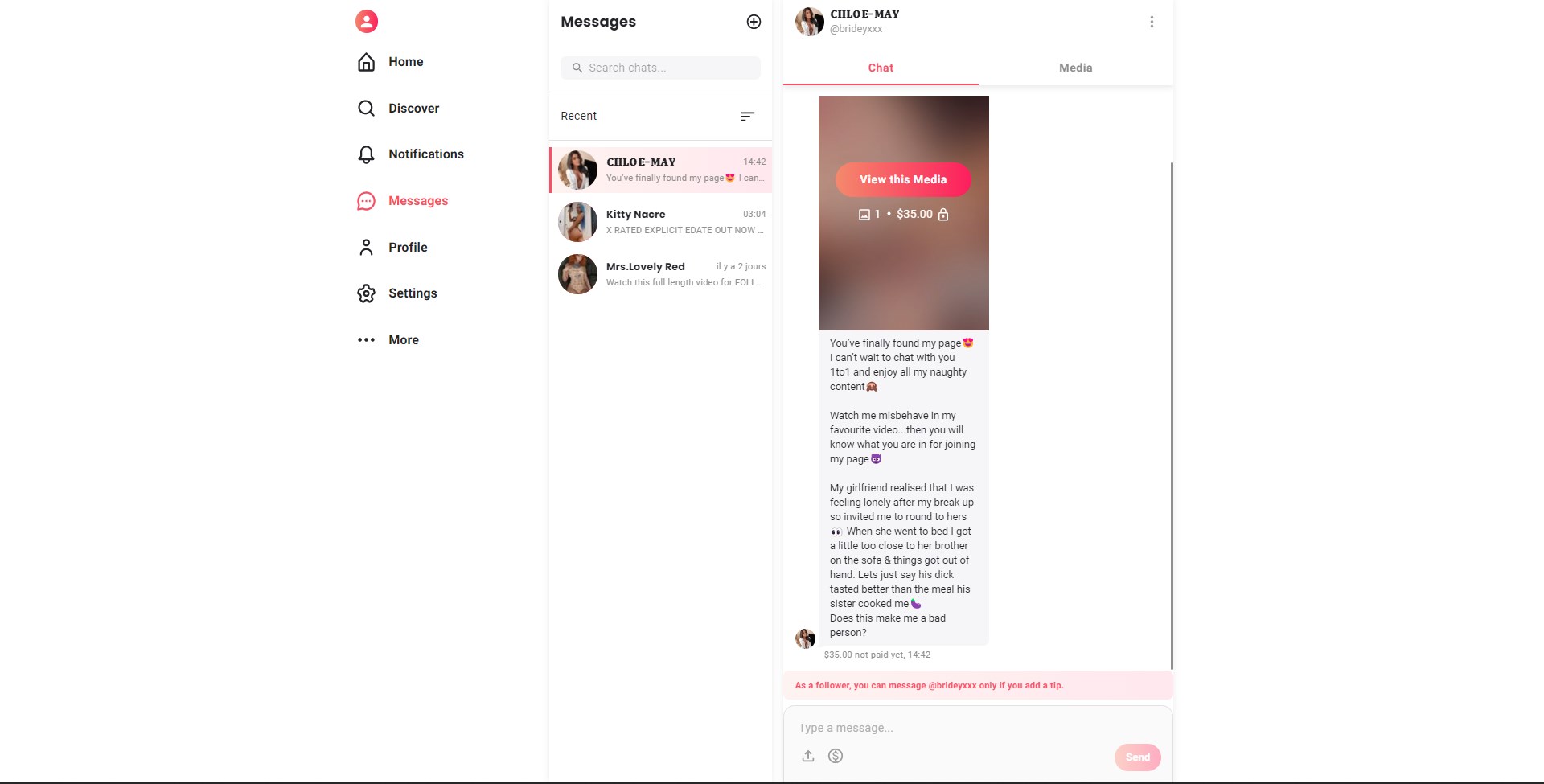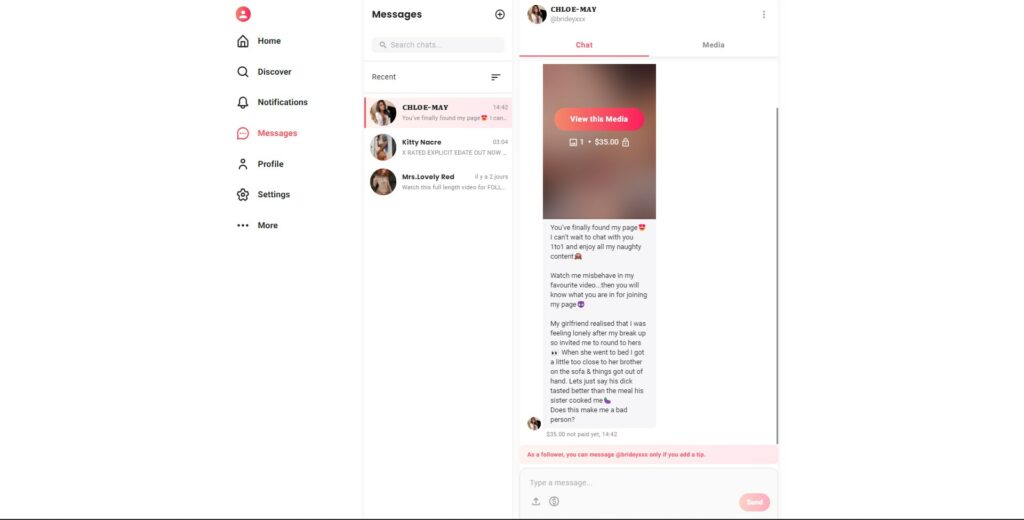 Videos promoting the channel
By registering as a designer on Fanvue, you have the choice to publish a promotional video on your page which serves as an introduction to your future fans. You can introduce yourself and describe your activity as well as the kind of content you publish on your page. If you offer rare or special services, don't hesitate to mention it to stand out from other content creators.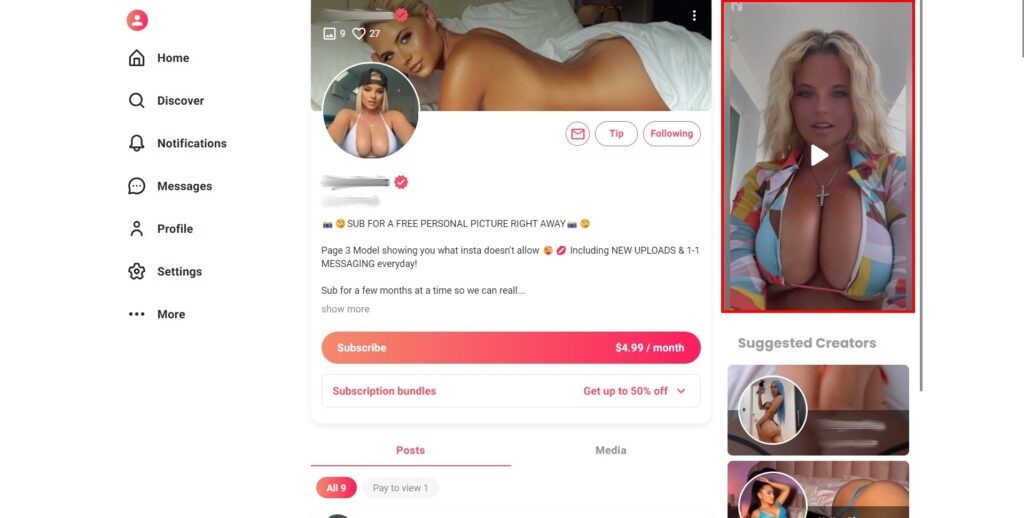 This promotional video is basically a visual description of your page, if done well it will impact Fanvue users much more than a simple page description. Although it seems trivial, this is not a feature you will find everywhereFor example, OnlyFans does not offer it.
Analysis tools
Fanvue's analytics tools allow you to analyze your content and understand the trends of your followers. With the advanced tools Fanvue provides, you will be able to publish the best content at the best timeideal for you and your fans.
How do I receive my Fanvue earnings?
If you decide to start as a creator on Fanvue, it is obviously to make money. It is therefore essential to know how to earn money on Fanvue or how and when to receive it.
Fanvue only takes 15 % of your sales and releases your funds after one week after which you can make a withdrawal.
However, the The minimum amount to make a withdrawal is 20 $/€, but this is generally the case in the majority of sites of the same kind. Speaking of sites of the same kind as Fanvue, OnlyFans to a 21 days for the execution of funds versus 7 days for the Fanvue. 
Although the withdrawals are made almost instantaneously on Fanvuethis is not the case with OnlyFans. If ever there is a problem with your payments, the Fanvue is super responsive and efficient, without a doubt one of the best supports among the subscription-based social networks.
While it's great to have a presence on multiple platforms, if you only have to choose one, having a platform that pays well, quickly and has responsive support is probably more enjoyable.
Why choose Fanvue?
Why would you choose Fanvue and not another platform? Why not choose OnlyFans? After all, it's the most popular subscription-based social network with the most creators and users.
Most people don't like risk and that's why they tend to turn to the platforms with the most notoriety.
Ideally, it is better to choose bothIf you have to choose only one, it is best to choose the one that suits you best. Even if the site is still in full development, Fanvue has many advantages.
The Fanvue's support is excellentAnd it's not just me saying it. Whether you're a content creator or a user, if you have a problem, support will handle it quickly and efficiently.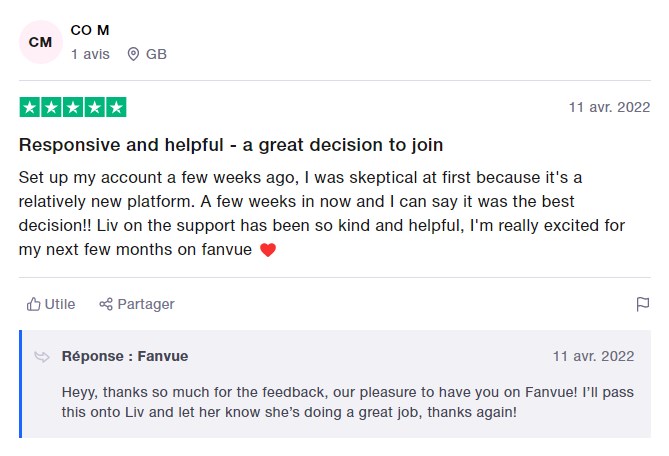 The payments are fast on Fanvue unlike other sites. As I mentioned earlier in this article, the winnings you generate on Fanvue are available to you after only seven days, while OnlyFans locks in your funds for three weeks before you can withdraw them.
In addition, Fanvue offers one of the best commissions among its competitors. You get 85 % from each of your sales, the remaining 15 % is used to develop the site and maintain the servers.
Fanvue is super easy to useFanvue is a new way to communicate with users and creators alike. Fanvue looks like a mix between OnlyFans and Twitter, giving it a sober and familiar design. The only flaw I would criticize the design of Fanvue is its lack of Dark Mode.
However, the site is very new and although the site looks a bit empty, most of the features are still to come. The Fanvue team is actively working on updates to the site, which is constantly evolving. For example, there are not yet the possibility of making direct on the platform.
To summarize, here are the different advantages and disadvantages that I have noted about Fanvue:
Benefits
Responsive support is effective
Many users praise this support, and with good reason. If you have any problems, Fanvue's support is available 24 hours a day, 7 days a week.
The mix between OnlyFans and Twitter offers a sober and familiar design to Fanvue. It doesn't take more than a few minutes to understand how the site works.
The site is recent and still lacks some content, but the Fanvue team is working hard to update the site regularly.
Fanvue only takes 15 % commission on your sales, you keep everything else which is 85 %. This is definitely one of the best rates among subscription platforms like OnlyFans, MYM and all the rest.
You can get the money back from your sales after only one week on Fanvue.
Disadvantages
The fame of OnlyFans is overshadowing many sites and Fanvue is unfortunately one of them. It is undeniable that there are more people on MYM or OnlyFans than on Fanvue. It is important to remember that the site is still very new, with a little time, this problem will eventually be solved.
No Shout-out, live and many other features.
As I just said, the site is still very fresh. The Fanvue team updates the site regularly, so again, this is a problem that will be solved with a little time. However, you have to admit that the site is a bit "empty" in its current state.
FAQ
❓ How to make money on Fanvue?
Simply create a creator account and share content on your page. Whether it's in the form of photos or videos, you can block this content so that it is only available to your subscribers. Of course, the subscription is paid and you set the price yourself. However, the subscription is only one of the many methods that Fanvue offers you to generate money.
❓ What is Fanvue's commission?
On every sale you make on Fanvue, you can get back 85 % of the profits. This is one of the best rates among the sites of the same kind.
❓ What is Fanvue's share?
To maintain the site's servers and the multiple updates that their team performs, Fanvue takes a 15 % fee on each of your sales.
❓ How is Fanvue different from similar sites?
Fanvue has excellent support available at the drop of a hat. It offers one of the best commissions among its peers and is regularly updated.
❓ Can we receive tips on Fanvue?
Of course! On your designer page, your fans can subscribe and send you tips to support you.
Fanvue Avis in video
Conclusion
Fanvue is a very good subscription platform although it is very new. A commission of 85 %, an easy to use site, fast payments, regular updates and attentive support, Fanvue is a platform that has the ability to please all content creators.
Its only problem is its traffic which is still too poor for the moment. The site clearly suffers from its lack of users, although some creators manage to reach more than 10 000 likes on their page, it is still far too rare.
Fanvue is without a doubt one of the best platforms among the different social networks with subscription. We can only hope that famous creators like Amouranth or Belle Delphine will put some light and offer the popularity it deserves to this great site that is Fanvue.